---
---
 
 
 
 
What is "Beadsori"?

It's a beautiful craft to weave beads into fabric by using loom. Weaving with beads is unlike basic weaving where the weft, or crosswise threads go over and under the warp threads to create a structural fabric. In "Beadsori (bead weaving)", there is a double weft thread, one thread going under all warp threads and the other going over all warp threads, both threads going through the single hole in each bead which falls between all warp threads. Weaving in this manner requires no shed, all warp threads remaining parallel. Spacing is controlled, not by any outside spacer but by the beads themselves. "Beadsori" is thus quite simple and much closer to the charted techniques of cross stitch and filet, where the main concern is deciding which bead is placed between each pair of wrap threads as called for by the corresponding square of your chart.

from "BEAD WEAVING :ELEGANCE" by Takako Sako ; Lacis Publications

     
 
 
---
About Bead Looms
"Beadsori" requires to use bead-looms.
Unlike the regular loom, it is designed to be used in both ends.
There are various sizes in looms but in Sako Takako Institute of Art Beads uses 3 sizes: Small (spring width 3"), Medium (spring width 8"), and Large (spring width 11").
In NHK TV show, Takako advised to use cake box (hard paper made box) as temporary handmade loom. Well, don't you think it's a good idea?
Bead loom (small)


Handmade Loom  
---
 
 
 
 
About Beads

Beads used in these days are generally made of glasses. Beads used in old days, much before B.C. were made stones and others to create beautiful ornaments and decorations.
There are two types in glass beads, cylindrical and cut beads. The holes in them are larger than those in other types of beads, so that the needle can pass through them easily. They come in 400 colors, including transparent, and metallic finish beads. They have a luster that adds a dewy look to a shinished pieces.

from "BEAD WEAVING:ACCESSORIES" by Takako Sako ;Lacis Publications

   
 
 
---
History of "Beadsori"

History of "Beadsori (Bead Weaving)" is very long. You can go back to B.C. Ancient Egypt era. In those days, beads decorations and ornaments were a symbol of power of the governing classes.

The trends of beads bags was brought in Europe in early 20th century. The beads bags had sophisticated beauty in color and shapes but the origin of their techniques are found in American Indians' decorations.


American Indians have used white, black, and purple colored beads made of clam shell. It was a symbol of wealth and status. They also used beads as currency.

It was around 16th century that first colored beads were brought in Europe as a gift from the new world. When Jamestown was build in old Virginia, glass factory was founded by Venetian glass artisan to make colored glass beads. These beads were used in trade with American Indians and soon it became common among them.

Most of the Bead Weavings, brought back to Europe by scholars and highbrows in Colonial time, were arranged into European style by craftsmen and artists. You can see a beautiful transparency patterns of high technique beads necklaces and bracelets created in old England in 18th century.

In Victorian age of mid 19th century, patterns and techniques became more refined. Splendid and gorgeous bead Weavings trend had expanded to Europe wide. The characteristics of the beauty of Bead Weavings differs from each locations.

The golden age of Bead Weavings are art deco of 1920's〜30's. Beads manufacturing and Bead Weaving techniques reached the peak, steel beads and metallic beads made bead bags had made ladies look more attractive and gorgeous.

But this golden age will end by World War II. Time has transited to modernism and Bead Weavings has banished from people's sights.

Recently, Bead Weavings has been revived in United Sates and Europe. Now that all the Bead Weaving decorations from American Indians to Victorian royalty and nobility decorations are loved and welcomed by many people. They are taken over as traditional industrial arts and crafts and deliver people a satisfaction of heart and warmth of handmade.
---
This is how to make "Beadsori"


String the warp threads in bead loom. Tie a weft thread to the leftmost warp thread.
String one bead onto the weft thread. Place a finger under the warp threads,and push the beads up between warp threads.
Thread a beading needle with the weft thread.
Bring the needle out on top of the warp threads.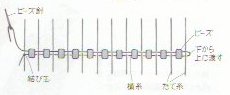 Remove needle; tie the bead onto the thread. You have woven Row 1.
Now, weave Row 2. Thread a needle again. Pass the needle through beads; position each of them between warp threads with your fingers, pushing up from below. Repeat the same.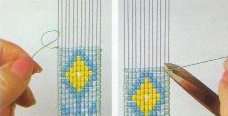 Weave up to the end row; hide the weft thread by threading it onto a needle, winding it around the warp thread , and pulling it tight. Repeat.
Pass the needle through three or four rows of beads; cut thread at the edge of a bead.




Remove warp threads from loom. Hide threads by sliding needle threaded through the beads to the side. Cut thread at the edge of a bead.


Now you have finished weaving! It's done!
You can attach findings or make it into solid body depends on your designs!
*You can find more details of to make Beadsori in "Beadsori" Books. Buy one!
<go to "Beadsori "Books>
---
Let's start making "Beadsori" !

Why don't you try and start making "Beadsori"?

It's easy and simple. You can have your beads accessories and Beads bags, with your own original designs!

Smooth and glassy touch of "Beadsori" will gives you different and new inspirations.

Starting from small accessories, completion of each work will bloom your next bigger challenges.

Contact us now!
If you are resident in Japan, come and visit our classes!
You are welcome to see and try for free before you officially register in class or culture school.
for more details, go to Class Information site!

Or if you are resident outside Japan, go visit "Beadsori" Books site!
You can find attractive photos and how to make instructions in them!
---
TOP page・What's new・Message from Takako
About "Beadsori"・Class Information・"Beadsori" Books
Contact us